11-02-08:
Added all of our Halloween media appearances to our
Media page.
Content added includes two radio shows, one from 610 WTVN, and the other from 92.3 WCOL. We also added an article from
Columbus Monthly Magazine
, and the
Columbus Messenger.
10-29-08:
Check us out on
92.3's Woody and the Wake-Up Call
on Thursday morning 10-30-08: at 7:30 am! We will also be appearing on the
John Corby Show
on
610 WTVN Radio Columbus
at 3:00pm on Thursday. Be sure to tune in!
10-24-08:
We are still going through a busy October month. We just finished a presentation at the Hurt-Battelle library in West Jefferson Ohio. We would like to thank everyone for the great crowd that attended, and to Amy F. and the staff of the library. We also are doing evidence review of a historical building in West Jefferson, that we investigated earlier this month.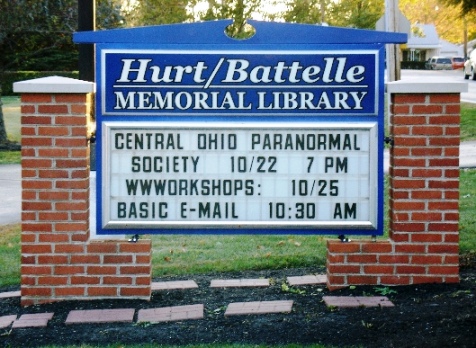 9-2-08:
Added a
Resource page
, with links to free software that can be useful tools for investigators. Added an
article on COPS by Kristina Smith
for Associated Content, on the
Media page
. More updates are coming soon.
8-9-08:
We are pleased to announce that we now have a fully operational thermal imaging camera in our toolbox. Many thanks goes to COPS member John Garcia for his continued support in the development of new equipment for our group. The video of our new thermal camera can be seen on our
Gear Videos page.
7-26-08:
We have finished up some local cases here in Columbus, and have also added some new comparison pictures, video, and EVP's to our
Grove City investigation
. To see what we have added,
click here
. We would also like to welcome our new members Julie, and Jeff Ronan to our
members page
. They are former clients of ours, turned members, and they both bring alot of experience in dealing with a residential haunting to the team. More updates will be coming soon.
6-24-08:
We just finished up an investigation at a local Grove City home on 6-21. We captured a very interesting photo of what we believe to be an apparition. We have started a page for this case, with the original pic, and a couple comparisons as well. Other evidence review is still in process. In the meantime,
you can view the pictures here.
We will also be meeting up with TAPS Family members
CPIA
at Malabar Farm for the Night Haunt on 6-28. It also looks like July is going to be a busy month as well, with residential cases, and other functions.
6-11-08:
COPS would like to announce that we have been accepted into the
TAPS Family
. Thanks to Brent Fair for making it all happen, and to Jason and Grant for having us in their extended network of professional groups. We look forward to working with you guys and everyone in the TAPS Family!
5-5-08:
Just a short update for info on the Malabar Farms Night Haunt info, which can be
found here
. Still some openings left. We will also be investigating the Strand Theatre in Delaware on the 24th.
5-4-08:
Just added a new case to the
investigations
page. It is from our investigation on April 19th at a local
Plain City business
. We also added two new members to the group. Andrea and John's profiles can be seen on the
Members
page. Welcome aboard guys!
4-13-08:
Finally, a new update! We have been very busy with a few on-going cases. March was a very busy month for us. With work, and a pretty moderate case load, it's been hard to find the time to update. It also looks like April will be a busy month as well. We have added some new gear to the
Equipment page
. Also, we've added to cases to the
Investigations
page. The
Clintonville case
, and the
West Jefferson
case pages are both up, with some new EVP's added. More coming soon!
1-29-08:
Just a small update for now. Added another case to the
investigations page
,for the
Mt. Sterling, Ohio case.
See...we told ya we would be restoring them, it's because we've actually done them! : )
1-28-08:
Another update for the month of January! First off we have added another case file to the investigations page. This page is about the case we had in
Sugar Grove
, Ohio.
COPS also has added a MySpace page
to network with other groups and independent researchers. And lastly, we'd like to announce that we will be once again participating in the Malabar Farms Night Haunt program this year. The dates for these events will be held the last saturday in May, June, July, and August of 2008. More information can be found at
Malabar's Home Page
as it becomes available.
1-20-08:
Added some new videos of some of our equipment set-up's, from last night's film shoot, which can be found on the
GearVideos
page.
1-15-08:
We are pleased to announce that we will be filming yet another pilot episode for cable television. This will be done Saturday, January 19th, at a historic location here in central Ohio. More information coming soon!
1-07-08:
Another update! Added case pages for the
Whitehall
case, and a
Columbus
residence.
1-06-08:
Added the
Greenlawn Abbey page
. More case pages are being re-built, and will be slowly, but surely added to the
investigations page
.
1-03-08:
Happy New Year! Here is our first update of the year, with last years stuff! Anyway, now that all the holidays are over, we are getting busy again. Just a quick update to include the
West Liberty investigation page
, and the
House of the Unknown page
. More new stuff coming soon!